BATHROOM REMODELING BUFFALO NY
Revamp your bathroom with our top-notch remodeling service. From showers to suites, simple to luxurious, and old-fashioned to modern — our professional bath remodelers can deliver it all
REQUEST A QUOTE
High-quality materials
Precise techniques
Flawless, long-lasting results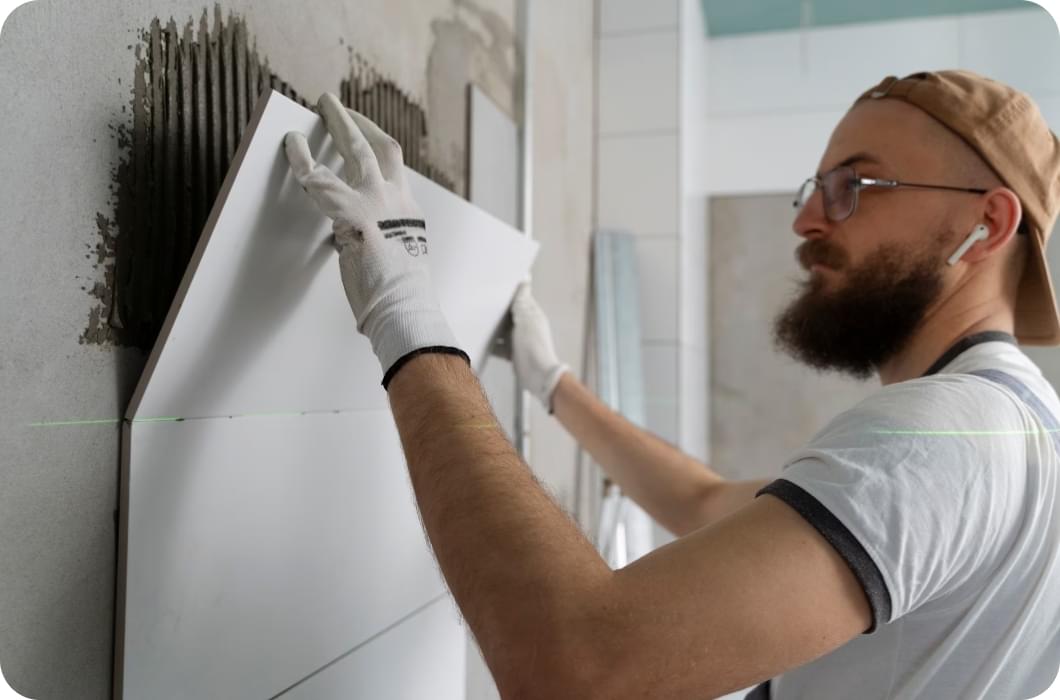 Get your FREE onsite cost estimate today!
RenoTitan Makes Your Bathroom Renovations Worth the Investment
We take pride in providing our clients the RenoTitan Advantage: Years of relevant experience in the remodeling industry and a team of experts that offers a wide range of services to meet all your bathroom remodel needs in Buffalo NY.
Our commitment is to enhance the functionality and aesthetics of the most private space in your home. When our remodel work is done, you will have an upgraded lifestyle — and an upgrade in your property value too!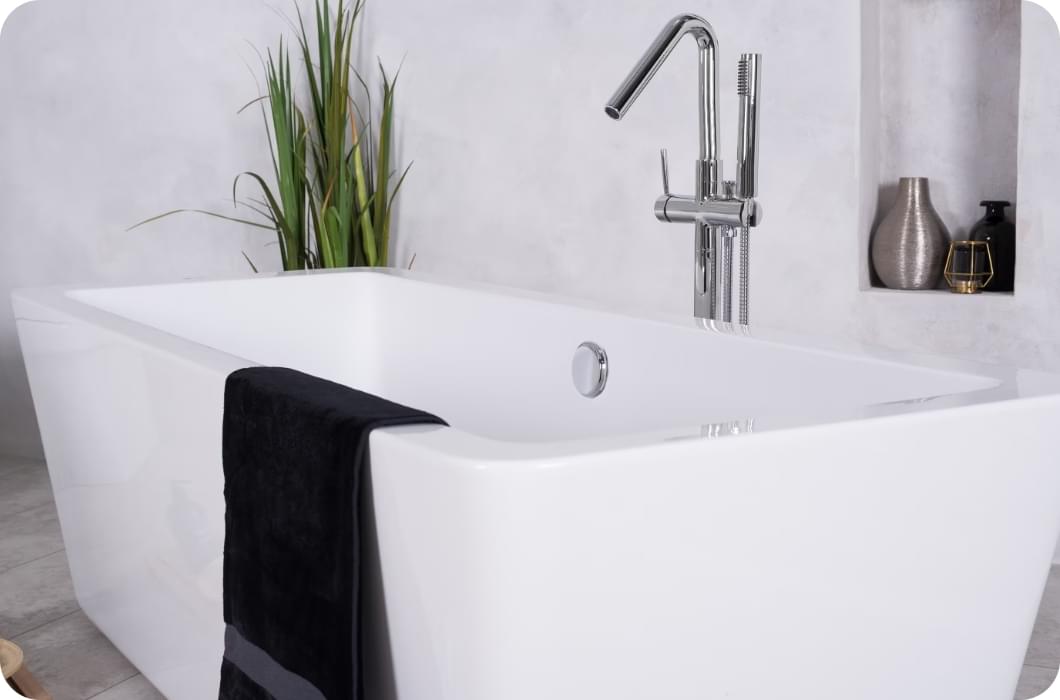 500+
PROJECTS COMPLETED
850000+
SQ. FT. RENOVATED
95.7%
ON-TIME DELIVERY
4/5
RECOMMEND US TO THEIR FRIENDS
FAST, EFFICIENT, AND STREAMLINED 3-STEP BATHROOM REMODELING PROCESS
We simplify the remodeling process and ensure you're involved at every step — without the hassle and overwhelm
Step 1: Request and Receive Your Free Onsite Estimate

Submit the form online
Our team visits your property
We provide a bathroom remodeling estimate with detailed project scope and transparent costs
We discuss the quote with you and adjust it as necessary
You approve the estimate

Step 2: Timeline and Plan of Action Review

We assign an experienced supervisor to head your project
You meet with the supervisor to set the schedule, milestones, your specific instructions, and special considerations
We update you of the progress and detailed milestone completions from start to finish

Step 3: Final Walkthrough

You inspect our finished work
We do touch-ups and adjustments if required
We shake hands when you are satisfied
Our team cleans up the site of all debris and construction materials

Bonus: Post-Renovation Check-In and Support

The RenoTitan team will reach out to you every now and then to ensure that our intended long-lasting results stay that way. Our communication lines will remain open long after your project is finished.
REQUEST A QUOTE NOW
WHY RENOTITAN?
If you're looking for custom bath designs that are flawlessly executed in terms of design and finish — then we are your people. Allow us to create for you a unique space that is tailored to your lifestyle, taste, and fantasies. Our work includes fixtures, tiles, mirrors, countertops, vanities, and other elements to transform your space.
What's more, we also we provide recommendations for interior finishes, such as paint colors, window replacement, curtains, and lighting options that best match your new space.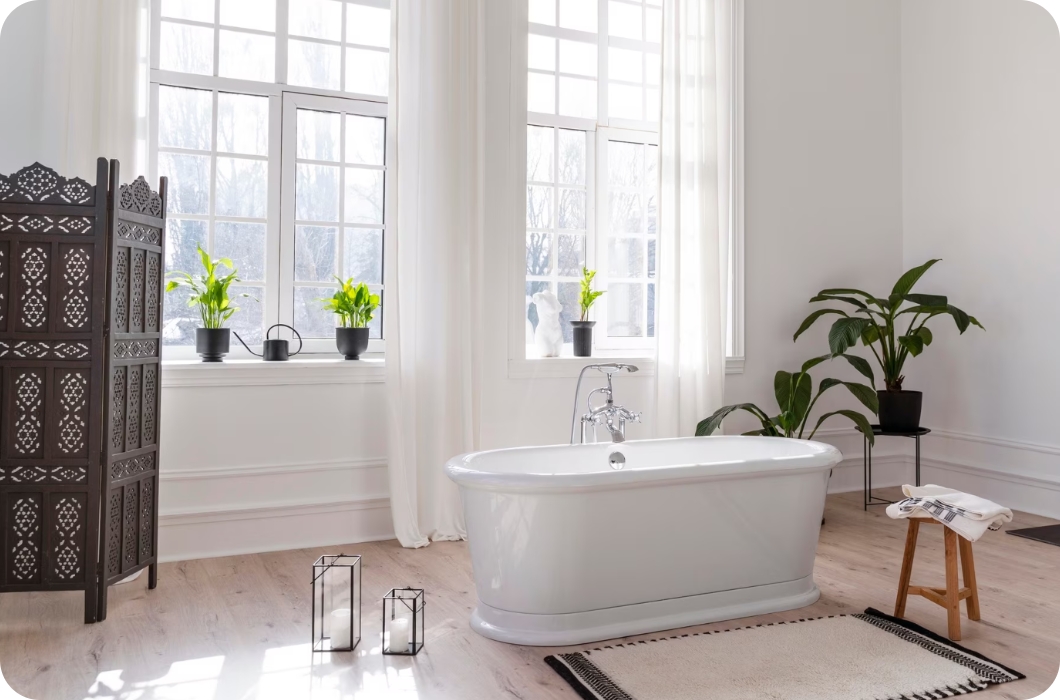 Be it sleek, stylish and modern or something for traditional with a timeless look, we work to offer you design options to suit your preferences.
By choosing RenoTitan, we can guarantee you a personalized and delightful experience from start to finish.
Our commitment to quality also gives you a significant difference in the overall quality and longevity of your space.
And the most essential bit — we take great care to protect the rest of your home during the renovation process.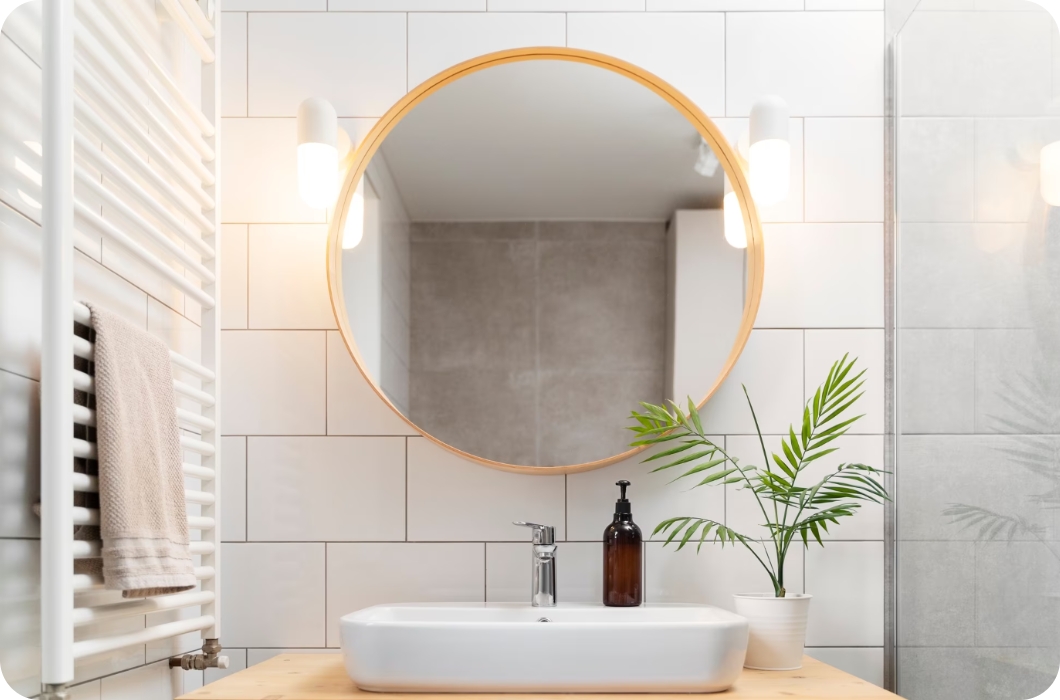 Safety First: Our Commitment to a Secure Work Environment

We understand that a bathroom remodel project can be disruptive and potentially hazardous, so we take every necessary precaution to keep things safe and secure

Materials Matter: Nothing Less Than High-Quality

The construction items we use not only look pretty but also withstand the test of time, be it bathroom windows, doors, the shower, or a bathtub replacement

Quick Turnaround: Efficient Project Management Process

We ensure that every detail is taken care of and the project is completed on time and with the least disruption — without compromising an iota on quality

Comprehensive Service: End-to-End Remodeling

We handle all technical aspects too, like obtaining necessary permits and coordinating with plumbers and electricians

Communication is Key: You Stay in the Loop Through the Process

You want to be involved and informed throughout the renovation process, that is why our team provides regular progress reports

Employee Background Checks: For Your Peace of Mind

Every individual on our team is licensed, experienced, knowledgeable in their respective fields, reliable, and trustworthy
WHY YOU NEED PROFESSIONAL BATHROOM REMODELING CONTRACTORS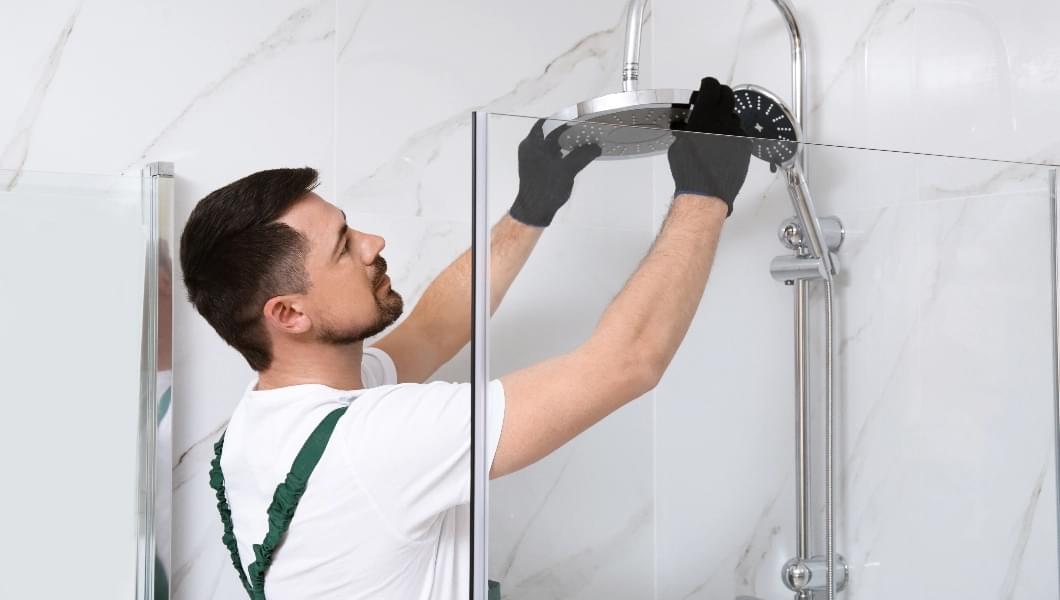 Stress-Free Experience
A bathroom remodel project is no small task. Whether you're looking to update the design, replace fixtures, have a shower remodel, or renovate the entire space, hiring professional remodeling contractors is crucial to success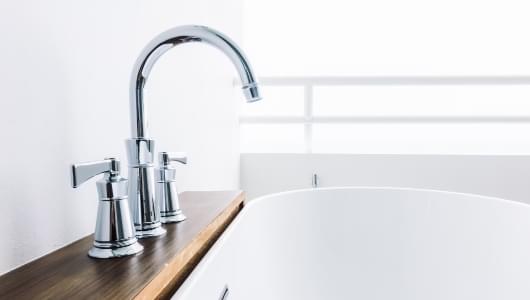 Access to the Best
Options
By hiring bathroom remodeling contractor like RenoTitan, you gain the advantage of years of experience in the industry. We know the suppliers that carry the fixtures you want at the price set in your budget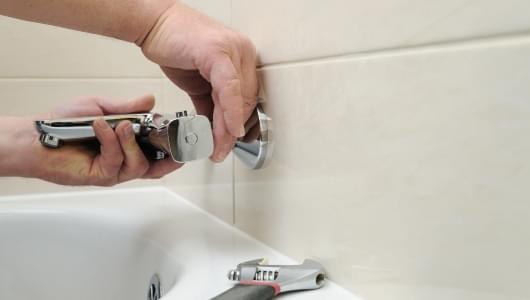 Troubleshooting of the Unexpected
Sometimes, unforeseen issues may arise during the renovation process, such as water damage or structural concerns. You may not know the solutions to such challenges, but a construction expert does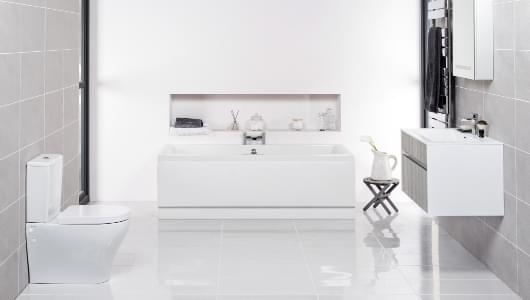 Expert Guidance
Bathroom remodeling contractors are capable of bringing your vision to life. They can help you navigate the overwhelming number of choices for fixtures, materials, and designs while ensuring that your bathroom reflects your personal style and meets your unique needs. The result is a space that is both beautiful and functional
AREAS OF SERVICE
Amherst, Hamburg, Williamsville, Clarence Buffalo, Lancaster, West Seneca, Tonawanda, East Aurora, Depew, Orchard Park
FAQ
What is the most expensive part of a bathroom remodel?

All contractors agree that labor takes up most of a bathroom remodel expense. Next is plumbing, and the third would be the tiles.
Can I redo my bathroom myself?

Yes and no. Simple aesthetic jobs like replacing a few tiles, changing the cabinets, revamping lighting fixtures, and installing new mirrors or shelves are doable.

However, we do not recommend DIY when it involves plumbing (shower, bathtub, faucets, bidet), electrical, and total tile replacement. These entail potentially hazardous steps that might physically harm you or cause damage to foundational structures in your entire home.
Do I need permission to change my bathroom?

For cosmetic changes, you won't be required to secure permits. But you would need approval from the appropriate institution for more complicated work.

Below is a general guide.

Get a Department of Buildings permit for:

Changes in plumbing that involve alteration in the fixture trap and/or hot and cold water shutoff valves
Most electrical work, even if you're just handling the wires
Structural elements

Check your local county requirements as well because some require an inspection to determine whether you need to file for a permit.

And if you reside in a condominium or apartment building, the property could have specific policies, particularly for layout changes. For example, the plumbing structures in such residences are usually constructed on one side, with bathrooms placed on top of each other.
Is redoing a bathroom a good investment?

Absolutely. Especially if you plan to sell your property in the future. Even if you don't, most bathroom remodels include the addition of modern amenities that result in reduced electricity and water bills.
How much does a bathroom remodel cost in Buffalo, NY?

It varies depending on factors such as the size of the space, the scope of the project, and the materials to be used. In Buffalo, NY, the typical range is $10K-$30K. For luxury bathroom renovations, it would be between $25K and $60K. The same goes for remodeling a master bathroom.
You can trust experienced professionals to get the job done right. Our expert bathroom renovations team takes pride in providing the highest quality results.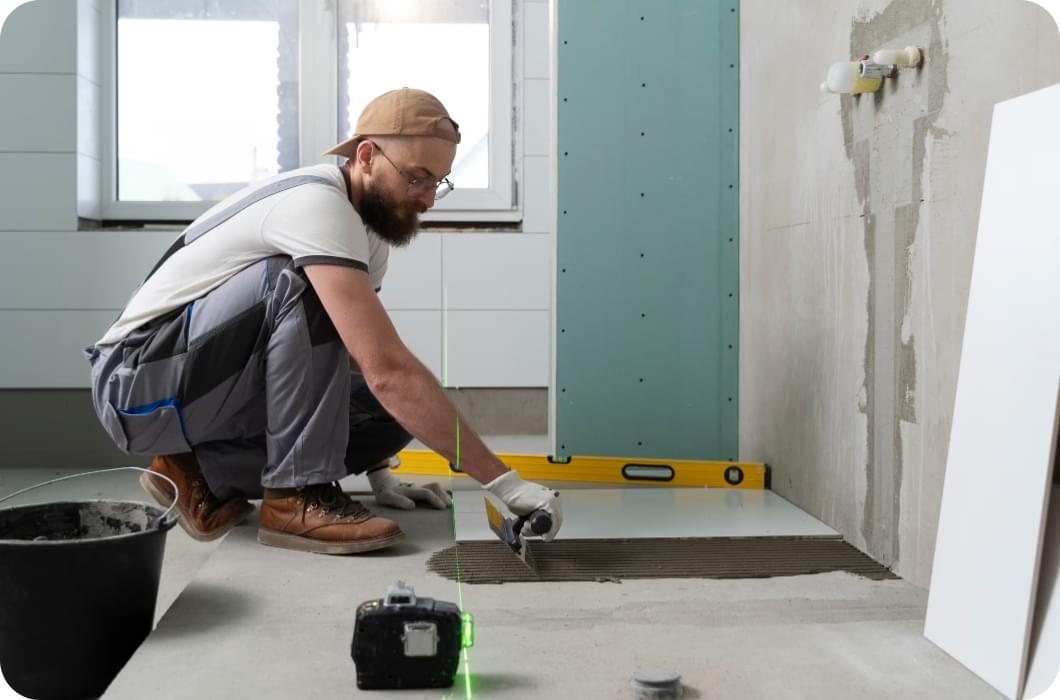 Start Your Bathroom Renovation Journey with RenoTitan Today!