INTERIOR PAINTING BUFFALO NY
There's more to a paint job than just color. Don't settle for a DIY job-interior painting your home or commercial space is not a simple cosmetic facelift. Minimum interior painting can improve indoor air quality and increase your property's value by at least $4,000
BEGIN MY TRANSFORMATION
High-quality materials
Precise techniques
Flawless, long-lasting results
Professional Results. Every Single Time. RenoTitan.
Get your FREE onsite cost estimate today!
Breathe New Life Into Your Buffalo, NY, Residential or Commercial Space With RenoTitan's Interior Painting Expertise
Interior house painting is an excellent way to revamp your living space. Our professional painters will transform your interior and add value to your property. Whether you want to add a splash of color, remodel a room, or undertake a complete renovation, we can do the job quickly and efficiently.
RenoTitan also offers interior commercial painting for stores, shops, warehouses, and other establishments with the same level of care, service, and quality.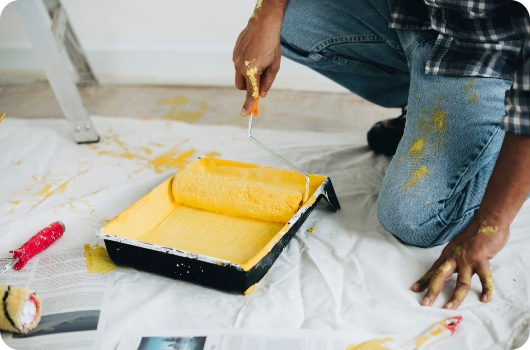 500+
DRYWALL INSTALLATION
850000+
SQ. FT. RENOVATED
95.7%
ON-TIME DELIVERY
4/5
RECOMMEND US TO THEIR FRIENDS
WE MAKE YOUR INDOORS SHINE BRIGHTER WITH OUR 3-STEP INTERIOR PAINTING PROCESS
The RenoTitan system ensures the highest quality commercial and house painting services in the shortest time.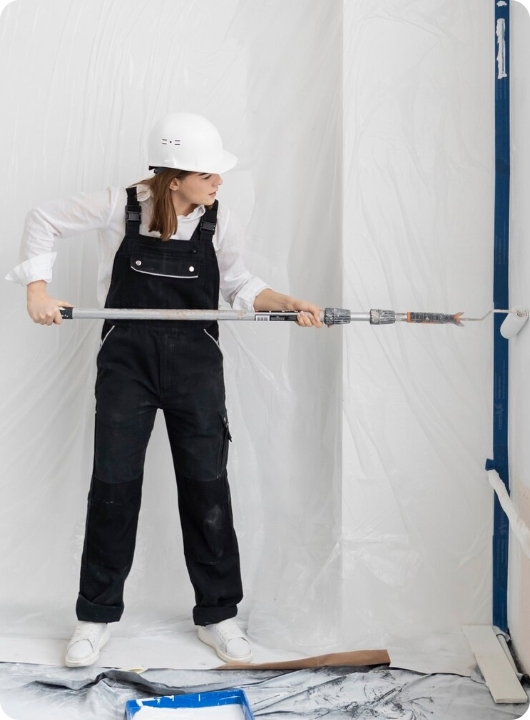 Step 1: Free Onsite Estimate

Submit your request form online. Upon receipt, our team visits you and provides an estimate, including the project scope and costs. We follow up with a comprehensive quote, discuss the details with you, and make necessary adjustments. Work starts when you give us the green light.

Step 2: Review of Timeline and Action Plan

We designate an expert supervisor to spearhead your project. You meet to set the timeline and agree on your specific instructions. Our supervisor keeps you up to date on the work progress until completion.

Step 3: Final Walkthrough

You survey our finished work. We do touch-ups and adjustments if required. When you are satisfied, our team cleans up until your space looks immaculate.

Bonus: Post-Painting Check-In and Support

Our painting services do not end when the paint dries. We will contact you regularly to ensure our promise of long-lasting results is fulfilled. You may also contact us at any time for any issues or concerns.
BEGIN MY TRANSFORMATION
WHY HOME & BUSINESS OWNERS IN BUFFALO, NY, TRUST RENOTITAN
Our experienced team of painting contractors handles everything from protecting your furniture and floors to replacing any damaged surfaces while delivering quick and efficient results. Be confident that your interior painting will be completed with utmost care and attention to detail.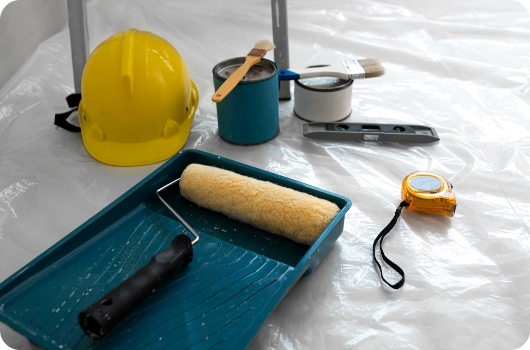 With RenoTitan, you can customize your interior look and style by choosing paint colors and other details like stenciling or pattern designs. We'll offer expert advice and suggestions to ensure your space reflects your unique style and personality. RenoTitan is committed to delivering excellent services and top-quality materials with each job. We use only high-quality paint, which lasts up to twice as long as inexpensive brands. It's a great investment that saves you money in the long run!
Keep your walls looking as good as new for years, with low to zero maintenance, and without doing manual labor yourself.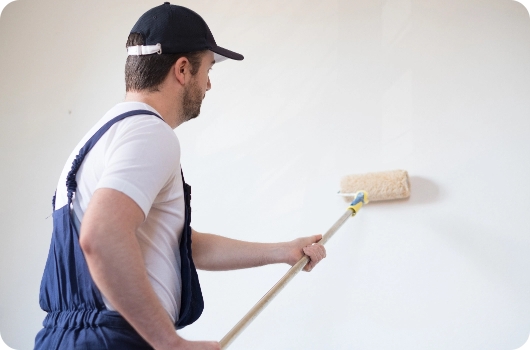 Choosing the Right Colors

Explore a wide range of hues until you find the perfect palette. Choose among different finishes, such as matte, gloss, and satin. We'll be there to guide you throughout the selection process.

Preparing the Space

Our trained crew will prep surfaces and properly seal them before painting. Cleaning, sanding, patching holes, and masking areas are also essential steps to guarantee the paint job's longevity.

We Use High-Quality Tools

Our toolbox contains only top-of-the-line painting implements such as brushes, rollers, and paint sprayers. These are crucial to achieving flawless outcomes.

We Have a Customer-First Protocol

Your safety and satisfaction are our priority. Before we start working, we ensure your belongings are protected. We also ensure we fulfill all your requirements.

We Consider Indoor Air Quality

We use eco-friendly and low-VOC paints to reduce harmful emissions and create a healthy environment for you and your family or staff.

We Conduct Employee Background Checks

Trust is one of the cornerstones of our reputation. Everyone on our team is licensed, experienced, dedicated, and honest.
AREAS OF SERVICE
Amherst, Hamburg, Williamsville, Clarence Buffalo, Lancaster, West Seneca, Tonawanda, East Aurora, Depew, Orchard Park
FAQ
How much does it cost to paint an interior house in Buffalo, NY?

For an average-sized house, interior painting in Buffalo can cost an average of $6,500 for labor and $1,200 for the paint and supplies. But it really depends on the size of your project, materials you choose.
How many days does it take to paint a house's interior?

A 12 x 12-foot room will take around five or six hours to paint. For a complete interior painting of a 10,000-square-foot space (home or commercial), professional contractors would allot between three to five days.
Is expensive interior paint worth it?

Absolutely! High-end interior paints are a worthy investment. They require fewer coats, which translates to fewer hours spent on labor. And when the work is done, you can count on higher resistance to cracks and better protection against the elements. That means they last longer, and you won't need to repaint often.
How many years should interior paint last?

If you use quality paint (which costs more) and maintain the painted surfaces well, you can expect 5-10 years of longevity. However, rooms with high traffic, heavy usage, and direct exposure to the elements might require repainting every 3 or 5 years.
Ready to give your residential or commercial place a fresh look? Let's work together to create your dream space. Reach out to us for a free consultation and estimate.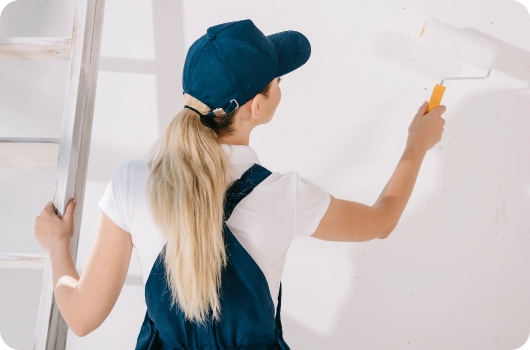 Start Your Interior Painting Journey with RenoTitan Today!