DECK BUILDERS BUFFALO, NY
Do you want to create some additional square footage in your backyard? Improve your home's value and appeal? Building a deck can give you all that and more! Renotitan's experts can help you design the ideal deck for you and your family to enjoy those special moments together. And it won't burn a hole in your wallet, either
REQUEST A QUOTE
Building an outdoor deck requires attention to detail, expertise, the right choice of materials, and a solid eye for design. With RenoTitan's expert team of patio contractors, you can be sure that you won't just end up with a patio that doesn't just look good- but one that stands the test of time.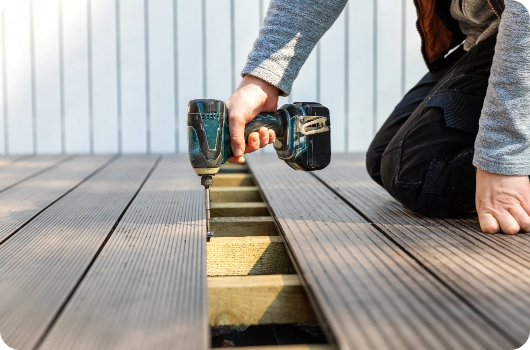 Get a Free Estimate Today!
Come Build With Us!
RenoTitan's experts aren't just the best deck builders in Buffalo, NY — they're comprehensive home design masters.
Our talented contractors have years of training between them, ensuring that all our construction services and custom design options meet only the highest standards.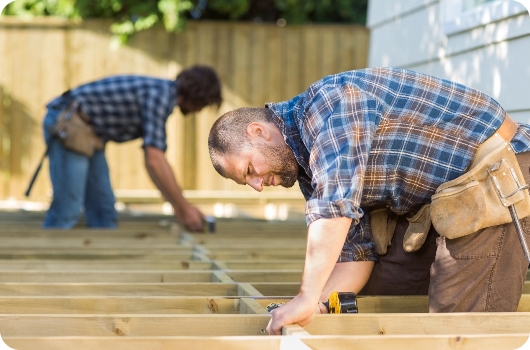 500+
COMPLETED PROJECTS
850000+
SQ. FT. REMODELED
95.7%
ON-TIME DELIVERY
4/5
RECOMMEND US TO THEIR FRIENDS
WHAT CAN YOU GAIN FROM RENOTITAN'S DECK BUILDING, BUFFALO, NY?
RenoTitan's deck installation services transform outdoor areas with a range of materials, from wood to composite. Apart from creating additional square footage, here are some benefits you can expect from our services in Buffalo, NY.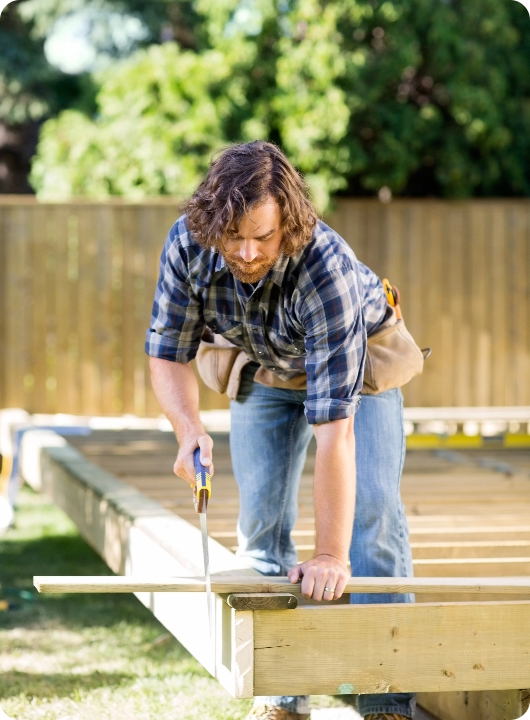 Added Aesthetic Appeal

A new deck isn't just a great place to host a party or grill some meat; it increases the overall decor of a home — adding aesthetic appeal to an otherwise unremarkable outdoor space.

Improved Value

An outdoor deck can increase the value of a home by up to 75% of its cost. This guaranteed return on investment is the main reason why our customers opt for our deck remodel services.

Convenient Installation

Our deck builders take 4-6 weeks to install a custom patio — a small period for such a massive project. Plus, since all work is done outside, it won't cause any inconvenience to you.

Enhanced Lifestyle

Whether it's taking up grilling as a hobby or hosting parties during the holidays, our deck builders create a space where you can greatly improve your lifestyle.
REQUEST A QUICK QUOTE
CONSTRUCT A NEW LIFE WITH RENOTITAN'S DECK BUILDERS
Deck building is a time-consuming yet inexpensive way to extend your home. In order to get the most out of your new outdoor patio and ensure all construction meets regulations, it's essential to opt for a professional service like RenoTitan.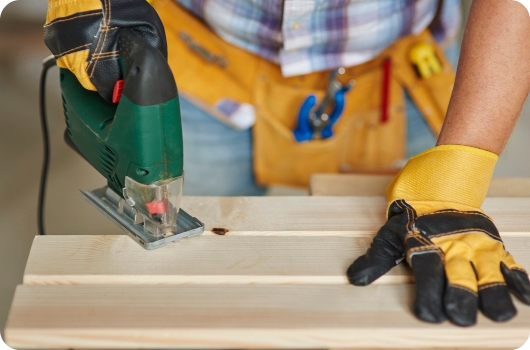 RenoTitan's team isn't just made up of deck builders.
We train and employ highly skilled individuals from across fields.
This knowledge base enables us to not only put together the ideal deck but also ensure that all constructions in your home are up to the mark.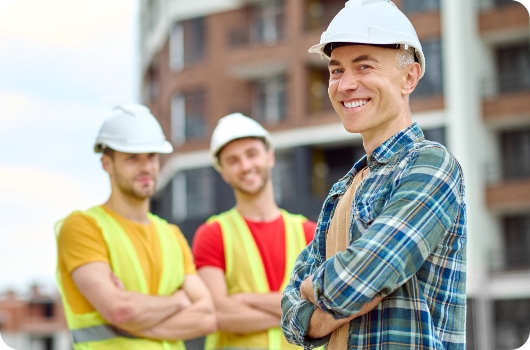 One-Stop Solution

Our plumbing services, combined with our experience in a host of other renovation services, make RenoTitan a one-stop solution for all your remodeling needs.

Thorough Background Checks

Finding the right plumber is hard work. But with RenoTitan's thorough background checks, you can be sure that our team boasts of some of the best talent in Buffalo, NY.

Clarity and Communication

We value customer service and clarity above all else. All our work, including commercial plumbing services, is carried out with great attention to detail, and customers are apprised of costs every step of the way.

Post-Service Support

Once the job is done, RenoTitan's plumbing team stays in constant contact with their clients, ensuring that there are no further issues to iron out or more problems don't develop at a later stage.
RENOTITAN'S 3-STEPS TO BUILDING A DREAM HOME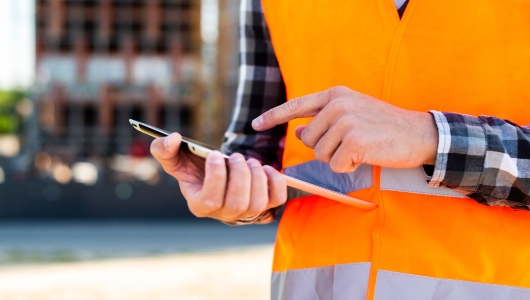 Step 1: FREE Onsite Estimate
Clarity and communication are crucial aspects of RenoTitan's customer service.
That is why, before we begin any project, we offer a completely free online estimate with a breakdown of how much you can expect to spend along the way.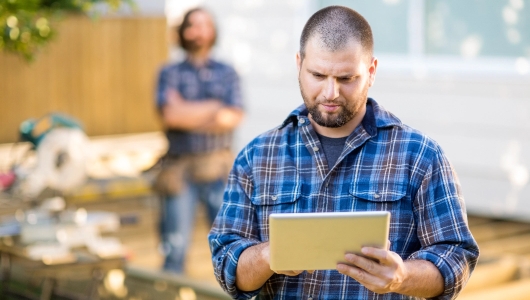 Step 2: Timeline Review
The trouble with most constructors is that timelines are often too flexible, leading to inconvenience for our customers.
During our timeline review, RenoTitan's deck builders will give you a deadline by which you can expect work to be completed. In case of any unforeseen delays, we will always take your important schedules into account.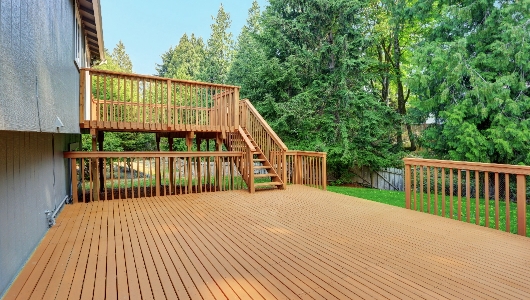 Step 3: Final Walkthrough
We understand that building a deck is a significant investment and that you'd only expect the best services in return. That is why, during our final walkthrough, our customers are invited to point out any flaws in construction or missing features they would like to have.
Don't be afraid of hurting our feelings — we only want what's best for our customers.
AREAS OF SERVICE
Amherst, Hamburg, Williamsville, Clarence Buffalo, Lancaster, West Seneca, Tonawanda, East Aurora, Depew, Orchard Park
FAQ
How do I choose a deck builder?

The ideal deck builders, Buffalo, NY, have immense knowledge of local regulations, a team of expert contractors, and are well-versed in other aspects of home renovation to ensure no additional problems develop along the way. RenoTitan's team, with its years of experience, offers all of the above and much more.
Why hire a professional deck builder?

When starting any renovation process, you will need access to the best materials, equipment, and — of course — a team of talented deck builders. While many homeowners create outdoor patios as just another DIY project, investing in professional deck contractors is the only way to truly ensure a significant ROI.
How much does a deck builder cost?

Depending on the complexity of your project and the materials used, deck builders, Buffalo, NY, could charge anywhere between $5,000 and $45,000 per project. The average cost of deck building services for a medium-sized space, using mid-grade materials, however, should be in the ballpark of $7,000-$8,000.
Is it worth it to build a deck?

Yes, we think so! While the initial cost of deck building may seem a bit high, there are no other downsides to turning your backyard into a highly functional space. A deck or patio could be a great place to host a party, catch up with the family, or significantly increase the value of your home.
Have you dreamed of turning your backyard into a party hall, an outdoor grilling area, or simply a place to kick back with the family? Contact RenoTitan to make your dream a reality!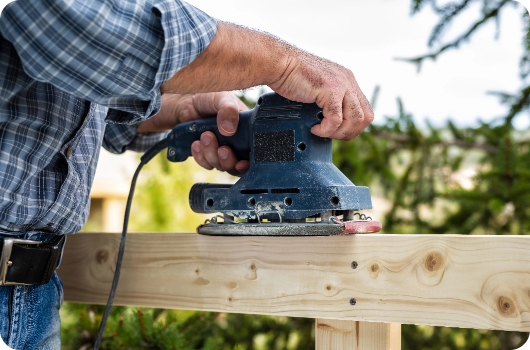 Speak to a RenoTitan Expert