DRYWALL INSTALLATION BUFFALO NY
At RenoTitan, our mission is simple — make your house into your home. We are passionate when it comes to transforming your living space into a unique haven of innovation and comfort. Through creative design, detailed and skilled craftsmanship, and unwavering dedication, we're committed to elevating your living experience. And, in the process, boosting your property's value. Crafting flawless drywall installations that inspire and captivate.
GET A FREE CONSULTATION
Our team of seasoned pros' and experienced drywall installers is ready to turn your dreams into reality —rejuvenating your interior walls one foot at a time. At RenoTitan, we use top-quality materials, cutting-edge tools, the best business practices in the field, and meticulous techniques to achieve impeccable, enduring results.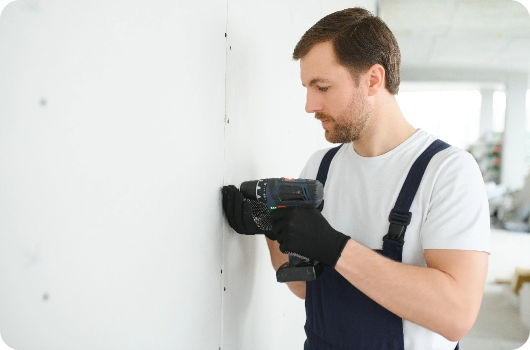 Discover Our Full Range of Renovation Services
Discover Our Full Range of Renovation Services
The number one renovation service in the area — exceptional drywall installation in Buffalo, New York, with RenoTitan. Our exceptional team of specialists are poised to bring your vision to life, creating unique environments that mirror your style and cater to your needs. From intricate and customizable to your taste, style and personality drywall projects to interior transformations — we stand as your reliable partner for excellence and quality. Not just when it comes to drywalls but whatever services you might require when it comes to lifting your home into what you want.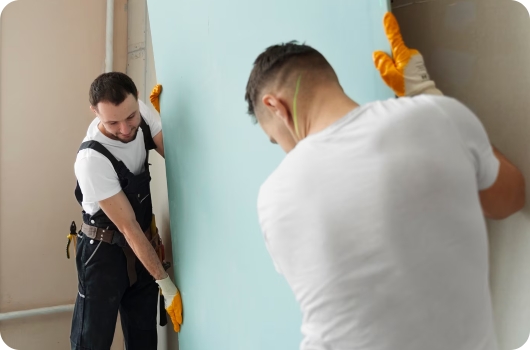 500+
DRYWALL INSTALLATION
850000+
SQ. FT. RENOVATED
95.7%
ON-TIME DELIVERY
4/5
RECOMMEND US TO THEIR FRIENDS
THE BENEFITS OF REVAMPING YOUR SPACE — THE DRYWALL TOUCH
Were you aware that investing on a renovation, including a drywall installation, offers an impressive return of 70 - 78% on average? The truth is that most "fixes" or improvements to your home offer huge paybacks. Transforming your space goes beyond enhancing comfort, functionality, and aesthetics, or increasing curb appeal. It's a savvy financial move that yields an impressive ROI. It gives your asset more value.
Unlock your property's potential with RenoTitan's professional drywall installation services in Buffalo, New York: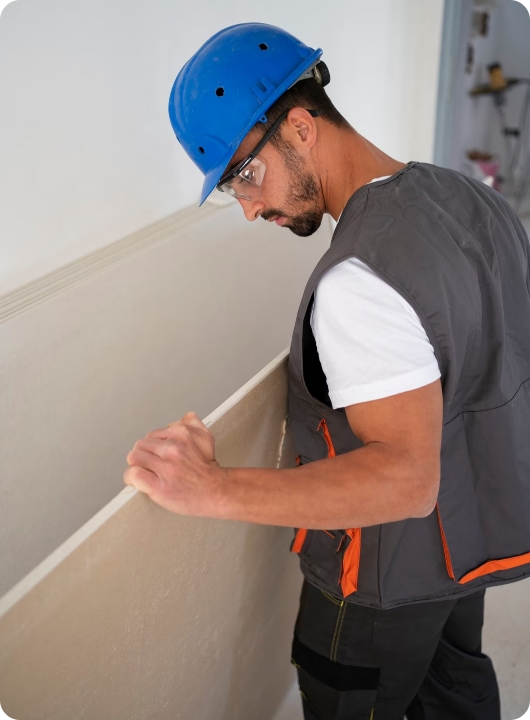 Enhanced Comfort and Improved
Functionality:

Picture a home tailored precisely to your preferences. Not a template solution but something unique. Our transformations optimize layouts and designs, creating spaces that will enhance your daily living. From open-concept arrangements to efficient storage solutions, we prioritize comfort and usability.

Increase Property Value:

A well-executed drywall installation not only enriches your living experience but also boosts your property's value — it increases its worth. Our expert renovators will craft a project that is meant to appraise your home's market worth. They will implement vital upgrades that attract potential buyers.

Personalized Style and Aesthetics:

Your home should reflect your unique personality — your unique sense of who you are. With RenoTitan, we ensure that your design preferences shine through in every detail. From choosing color palettes to selecting materials, we collaborate with you to create spaces that resonate with your personality.

Energy Efficiency and Savings:

Did you know that some states offer tax incentives to individuals with energy efficient properties? Sustainability drives our renovations — leading to long-term monthly savings. We integrate energy-efficient lighting, insulation, and smart appliances. This translates to a reduced utility costs while also minimizing your carbon footprint.

Modern Upgrades for Contemporary Living:

Stay aligned with modern demands. Our renovations incorporate smart technologies, innovative fixtures, and modern conveniences. We are on the forefront of IoT tech and principles as well as on the vanguard of the AI movement. From cutting-edge kitchen appliances to home automation systems, we propel your home into the future.
REQUEST A QUICK QUOTE
OUR EXPERTISE
With over a decade of hands-on experience when it comes to transforming homes, RenoTitan has established itself as Buffalo's premier drywall installation authority. Our clients can and will attest to our expertise — our brand thrives on cultivating lasting relationships. We're about reuniting families, fostering positive word-of-mouth, and turning strangers into loyal patrons.
Our accomplished contractors possess a deep devotion for their craft, an unwavering fidelity to detail, and consistently stand as the preferred choice for the citizens of Buffalo's renovation endeavors.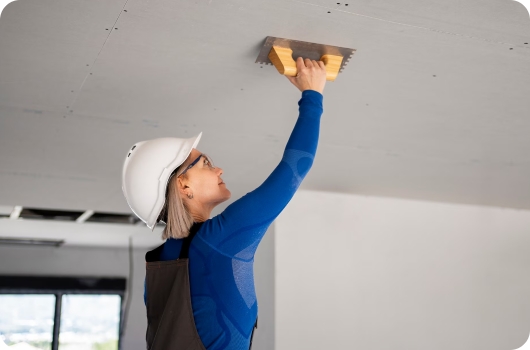 OUR DRYWALL INSTALLATION SERVICES IN BUFFALO, NEW YORK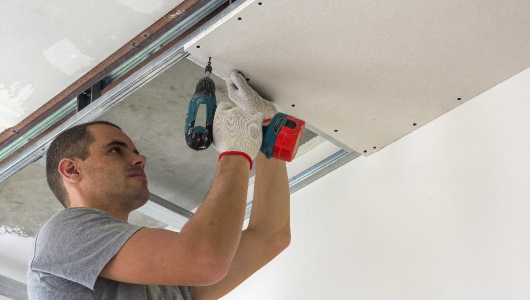 Drywall Installation
Elevate your space with RenoTitan's Drywall Installation services. Envision and create your dream environment. Our experts orchestrate every facet, from seamless walls to ceilings. Whether it's a new construction or a refreshed room, we aim to deliver superior high-quality finishes. Our team is here for all your needs, way beyond just drywalls.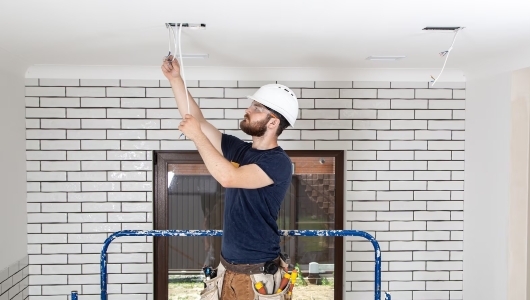 Plumbing and
Electrical Expertise
Comprehensive plumbing and electrical services prioritize safety and efficiency — in case it's needed during your drywall installation — taking into account the best ethical, safety-oriented, and professional views on the subject. From fixture upgrades to panel enhancements, RenoTitan's licensed professionals have you covered.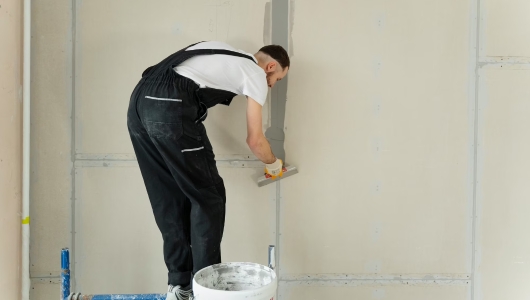 Seamless Drywall
Installation
Flawless walls and ceilings crafted by RenoTitan's skilled team. Precision in finishing and steadfast attention to detail for both new builds and as well as complex renovations — setting the gold standard as Buffalo's premier renovation company.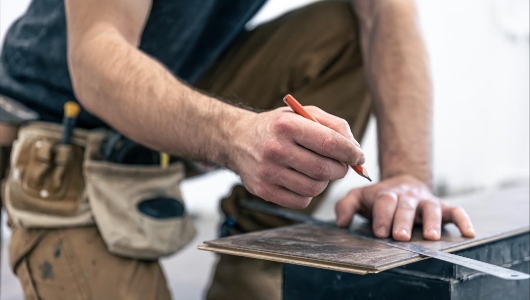 Elegant Flooring
Solutions
Upgrade your home with our professional services. We offer drywall installation as well as expert flooring installations including hardwood, laminate, tile, carpet, or vinyl. Our guidance helps you choose quality materials for both walls and floors, ensuring a flawless finish. We provide the best tips and highlight the risks associated with each material.
AREAS OF SERVICE
Amherst, Hamburg, Williamsville, Clarence Buffalo, Lancaster, West Seneca, Tonawanda, East Aurora, Depew, Orchard Park
COMMERCIAL DRYWALL INSTALLATION
We understand that where you do business is in reality a canvas of possibilities. A place that should inspire and motivate. With years of expertise in commercial drywall installation, we're equipped to take your aspirations and turn them into realities.
Our skilled team is dedicated to shaping commercial environments that exceed your expectations. Whether it's a retail space, office, restaurant, or any other commercial setting, we bring your vision to life.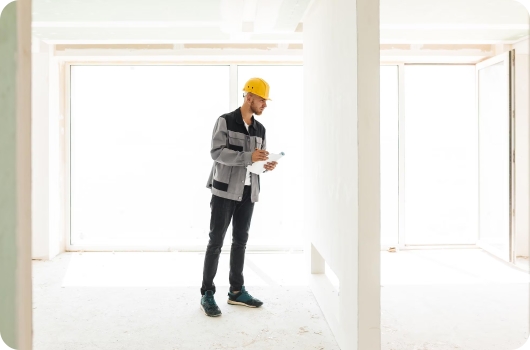 FAQ
Is it expensive to put up drywall?

The cost of drywall installation can vary based on factors such as project scope and materials. For personalized pricing, get in touch with us through our contact page or give us a call.
What are the most expensive components of drywall installation?

The costs can vary depending on factors like project scope and material quality. Still, the most expensive components include high-quality drywall panels, labor, and finishing materials.
Are drywall installations worth the investment?

Drywall installations can significantly enhance the appearance, functionality, and value of your home. It's a shrewd and wise investment in the long-haul.
Is drywall good for walls?

Absolutely, drywall is a versatile and standard material for interior walls, offering durability and a smooth surface for painting and finishing.
What is drywall in construction?

Drywall, also known as gypsum board or plasterboard, is a building material used for creating interior walls and ceilings. It consists of a gypsum core sandwiched between paper layers. It is one of the most used techniques in the field due to its versatility.
How do I get started with my drywall installation project?

Initiating your drywall project is straightforward and incredibly easy. Contact us through our website or phone, and we'll schedule a personalized consultation to delve into your vision, requirements, and budget.
How long does a drywall installation project usually take?

Project timelines vary depending on project complexity. During the planning phase, we will provide a detailed schedule to ensure transparency and efficient management.
When's the best time for a drywall installation?

There's no time like the present — we can start tomorrow. Drywall installation can occur year-round. We factor in your schedule, project requirements, and weather conditions to determine the best timing for you.
Choose a partner dedicated to excellence:
Exceptional expertise
Craftsmanship of the highest caliber
Transparent and effective communication
Unmatched and singular attention to detail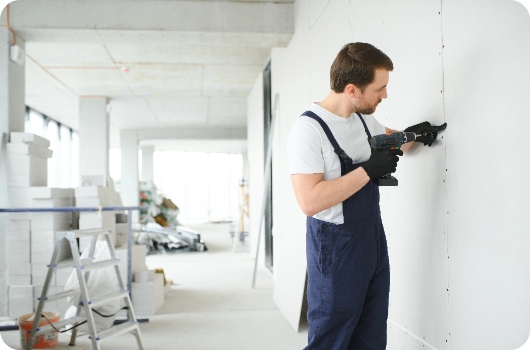 Talk to Our Kitchen Renovation Experts