FLOORING INSTALLATION BUFFALO, NY
When it comes to refurbishing a space, the flooring is usually the most underlooked part of the home. But, the fact is, nothing can spruce up a property more than replacing your floor. It's also a cost-effective renovation that can add great value to a home.Find out how much it will cost for expert flooring installation, Buffalo, NY!
REQUEST A QUOTE
RenoTitan's expert team has more to offer than just brand-new flooring installation. All our renovation projects use modern equipment, the latest technology, and years of collective experience. Our craftsmanship and commitment to safety make us the ideal team to carry out any kind of interior design project.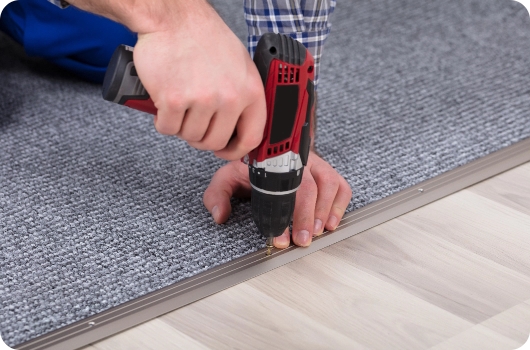 Get a Free Estimate Today!
Renovate With Us
A brand new floor can completely change the look of a residential or commercial space. At the same time, it will improve air quality, insulation, and reduce the risk of allergies.
When you work with a company like RenoTitan, you can rest assured that your new flooring is the perfect investment!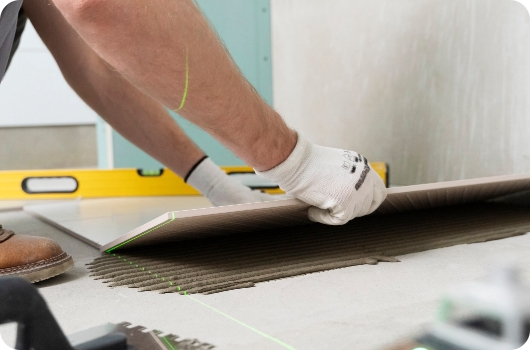 500+
COMPLETED PROJECTS
850000+
SQ. FT. REMODELED
95.7%
ON-TIME DELIVERY
4/5
RECOMMEND US TO THEIR FRIENDS
CHOOSE BETWEEN RENOTITAN'S LONG-LASTING FLOORING OPTIONS
Depending on your budget, taste, or the set up of your home, there are several flooring options to choose between, each with its own pros and cons. Here are some of the options RenoTitan's expert installers offer: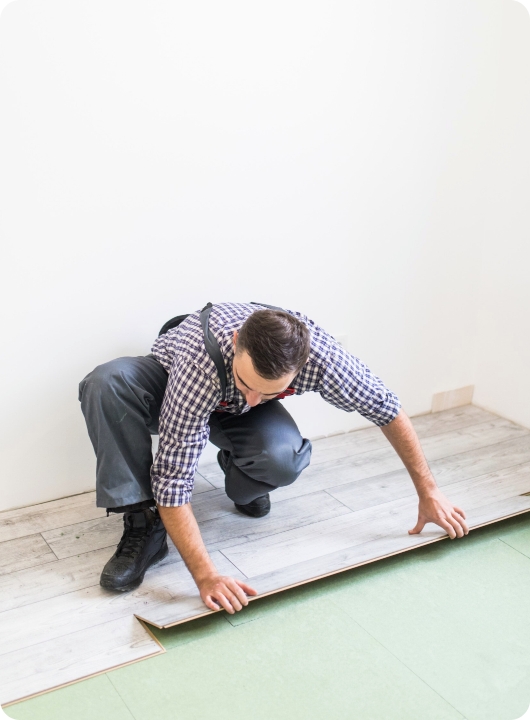 Laminate Flooring

A highly customizable and affordable option — especially for homeowners who want an alternative for carpets without burning a hole in their wallets.

Hardwood Flooring

Made of 100% solid wood, hardwood floors are a high-quality solution, made to last. These floors come in many varieties, like maple, oak, or cherry.

Vinyl Flooring

A popular option for commercial establishments, vinyl flooring is waterproof and very damage-resistant. It is known to last for a long time. Home Depot's LifeProof flooring is a popular and inexpensive vinyl flooring type.

Tile Flooring

Most often seen in bathrooms, kitchens, or any part of the property exposed to a lot of moisture, tile flooring is another water-resistant, inexpensive, and durable option.

Stone Flooring

Popular choice for outdoor flooring since it's waterproof and has great durability - what can be more durable than the stone, right?

Carpet Flooring

Great choice for homeowners who need to add a feeling of comfort to their bedrooms. Soft and warm, has many options of textures and colors.
REQUEST A QUICK QUOTE
WHY YOU SHOULD REPLACE YOUR FLOORS WITH RENOTITAN
With flooring installation, so many things can go wrong. Even one misstep can take years out of its lifespan and hurt your investment.
But the RenoTitan team doesn't just get the job done; we do it right. Our team comprises a massive talent pool, top-of-the-line equipment, and a strong commitment to safety measures.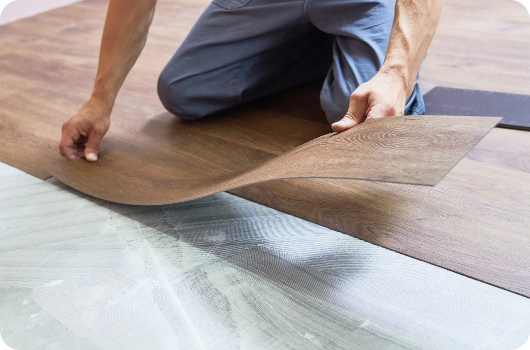 A new floor makes cleaning easier, improves air quality, and stops the growth of allergens. But some of the less-considered benefits include reducing background noise, adding an extra layer of insulation, and increasing the value of your home.
With RenoTitan's flooring services, you can expect to see all these benefits come together in an affordable package.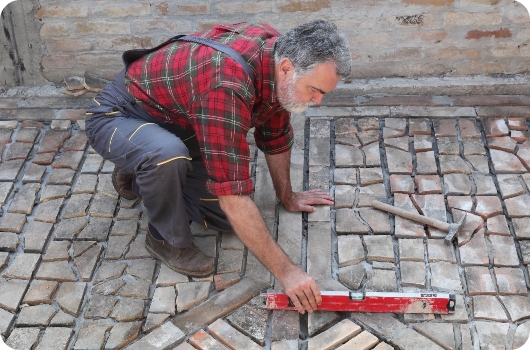 One-Stop Solution

Our flooring installers are also capable of carrying out several other renovation projects. So there is no need to worry about additional problems developing.

Thorough Background Checks

Before remodellers join our team, they undergo a rigorous vetting process, ensuring we hire only the best talent that Buffalo, NY, has to offer.

Safety is a Priority

Flooring installation comes with a fair share of risks. Even the slightest error on remodeling contractor's part can pose a danger to members of your family or employees. With RenoTitan, you can rest assured that safety will always be a top priority.

Clarity and Communication

During the renovation process, you can expect the RenoTitan team to communicate issues clearly and in a timely fashion. No surprise costs, no hidden issues — we offer only the best services.
STAND TALL ON A NEW RENOTITAN FLOOR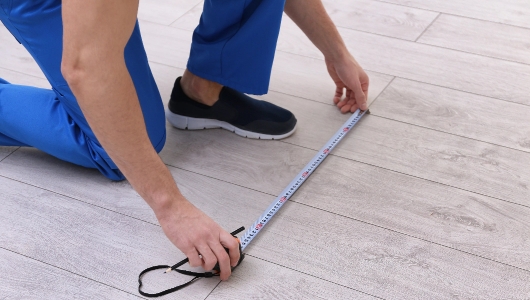 Step 1: FREE Onsite Estimate
As mentioned earlier, flooring installation can be one of the most cost-effective investments to make in a property. But just how much do you stand to make?
RenoTitan's team of estimators answers this question in just a few steps. The best part: it's completely free of cost.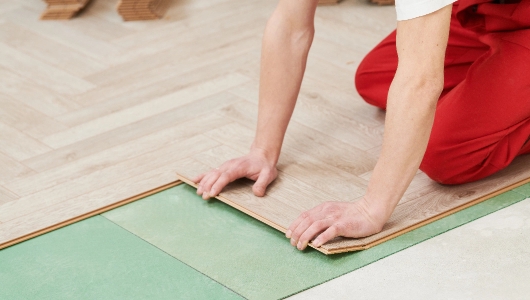 Step 2: Timeline Review
Once you've settled on the budget and the services you'd like, our team will offer you a detailed project breakdown.
This includes giving you a strict deadline by which the work will be completed, taking into account various factors that may lead to any delays.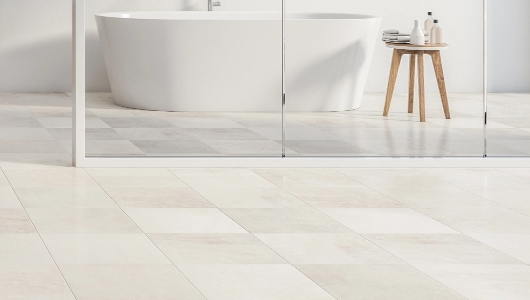 Step 3: Final Walkthrough
Once the project is completed and your new floor has been installed, the RenoTitan team will reach out to you for a final walkthrough.
At this stage, we encourage our clients to flag any potential issues or give us their valuable feedback on our work. We are more than willing to work with you to ensure you get the floor you deserve.
AREAS OF SERVICE
Amherst, Hamburg, Williamsville, Clarence Buffalo, Lancaster, West Seneca, Tonawanda, East Aurora, Depew, Orchard Park
FAQ
How much is the Labor Cost to Install a New Floor?

The exact figure depends on the type of flooring you need or how much space you plan to renovate. But on average, labor costs range between $0.60 per square foot to $4 per square foot.
How Long Does it Take to Replace Flooring?

Most installers will replace the flooring in a small room in a day or two. Bigger rooms can take up to 3 days to replace. If you're looking to replace all the flooring in your house, however — along with pulling out old flooring — it could take up to two weeks.
Can I Replace Flooring Myself?

We do not recommend carrying out flooring installation all on your own. It is more time-consuming and complicated than you think. Many DIY enthusiasts have replaced their own floor, only to find that the materials begin to warp and buckle shortly after.
Is it Difficult to Change Flooring?

Yes. Removing your old flooring can take several weeks or more if you only work on the weekends. The flooring installation process also requires expertise — making precise measurements and learning cutting practices are essential to getting it done right.
Contact the RenoTitan team for flooring installation in Buffalo, NY, today, and within just a few days, experience what it's like to live in a brand new home!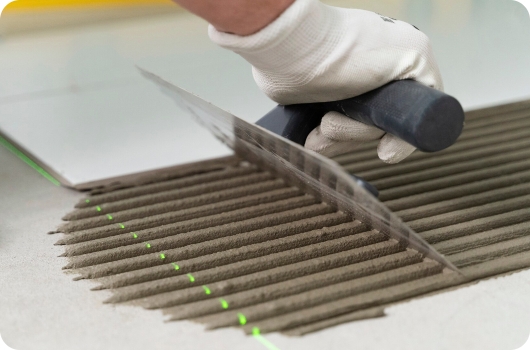 Speak to a RenoTitan's Flooring Expert