DOOR INSTALLATION IN BUFFALO, NY
At RenoTitan, our mission is simple — make your space a more inviting home. We are passionate and dedicated to transforming your house by providing high-quality, fast, and easy door installation services in Buffalo, NY. Through innovative design, meticulous craftsmanship, and unwavering commitment, our aim is to invigorate your living space — elevate your property and increase your home's value
GET A FREE CONSULTATION
RenoTitan is the leading home renovation company in the area — among our services we offer top-notch door installation in the Buffalo, New York area. Our certified and insured team of installers is ready to bring your dream to life, installing unique entrances that reflect your style and complement your home. From customized, personalized boutique and stylish entry doors to seamlessly fast installations — we are your trusted partner when it comes to excellence and quality — gifting you with one-of-a-kind products for your home.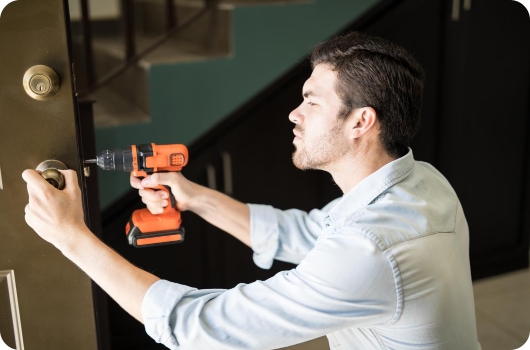 Explore Our Complete Range of Installation Services
The Essence of Door Installation
Our seasoned professionals, respectful team, and experienced door installers are committed to transforming your home's entryway.
At RenoTitan, we only utilize premium materials, high-end products, advanced tools, industry best practices, and meticulous techniques to achieve impeccable, long-lasting results — doors that not only safeguard your home but boost your curb-appeal.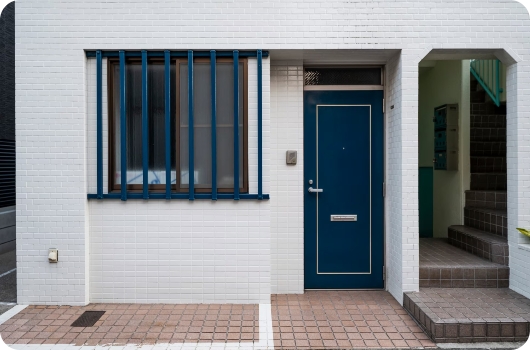 500+
COMPLETED PROJECTS
850000+
SQ. FT. REMODELED
95.7%
ON-TIME DELIVERY
4/5
RECOMMEND US TO THEIR FRIENDS
THE BENEFITS OF REVITALIZING YOUR ENTRYWAY — THE RENOTITAN TOUCH
Your home is your castle — and your first line of defense is your door. It is the post that protects your family, your hopes, and your dreams. It is your most important asset when it comes to keeping your loved ones and your property safe. There's no such thing as over-splurging when it comes to your safety and those around you. Beyond that fact, investing in your home's entrance goes beyond that critical factor — it's a smart financial move that adds value and appeal to your property.
Unlock your home's potential with RenoTitan's professional door installation services in Buffalo, New York: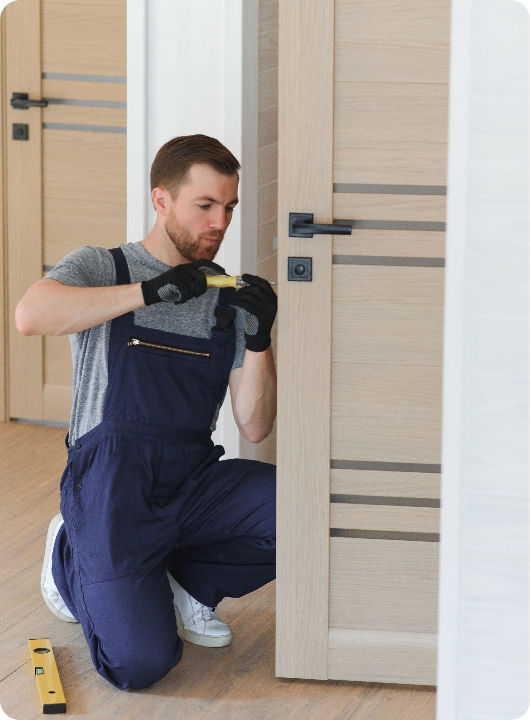 Enhanced Curb Appeal

Picture a home with a striking and inviting entryway. Our door installations enhance your home's exterior, leaving a lasting impression on visitors and potential buyers.

Fortify Your Castle

Imagine an impenetrable gateway — one that will protect you, your valuables, and your loved one.

Improved Security and Energy Efficiency

Upgrade to modern, secure, and energy-efficient doors. Our installations provide an added layer of protection while also contributing to reduced energy consumption.

Personalized Style and Functionality

Your home's entrance should reflect how you are – what makes you a unique individual. With RenoTitan, we collaborate with you to select the perfect entry door that complements your home's aesthetics and enhances its functionality.

Expert Installers, Enduring Results

Our skilled installers ensure a seamless installation process, guaranteeing your new door not only looks great but functions flawlessly for years to come.
REQUEST A QUICK QUOTE
COMMERCIAL DOOR INSTALLATION
Strengthen Your Business with RenoTitan — Protect Your Assests.
Experience excellence in Commercial Door Installation in Buffalo, New York, with RenoTitan — Crafting Your Business Ambience — safeguarding your assets. Making a world of difference.
At RenoTitan understand the importance of a welcoming, yet robust and incredibly functional entryway for your business. Not just to its interior, but to different sections of it. To your docks, to your loading bays, to your interior rooms. With years of expertise in commercial door installation, and all their complexities, we're equipped to bring your vision to life. Our team of expert contractors and workers is dedicated to creating commercial entrances that exceed your expectations.
Whether it's an office, retail space, or any other commercial setting, we turn your vision into reality.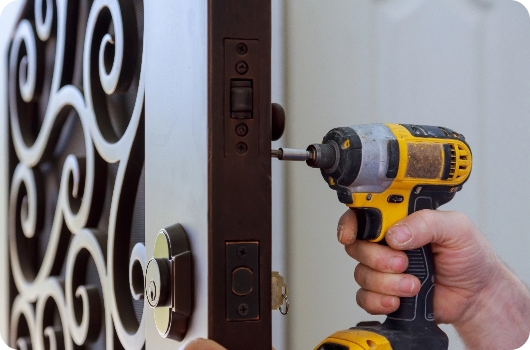 OUR EXPERTISE
With over a decade of hands-on experience in transforming homes, RenoTitan stands as Buffalo's #1 premier door installation authority.
Our vast client base can attest to our expertise — our brand thrives on building lasting relationships, and turning strangers into loyal patrons.
We want you to come back to us. We want you to recommend us. We count on your word-of-mouth.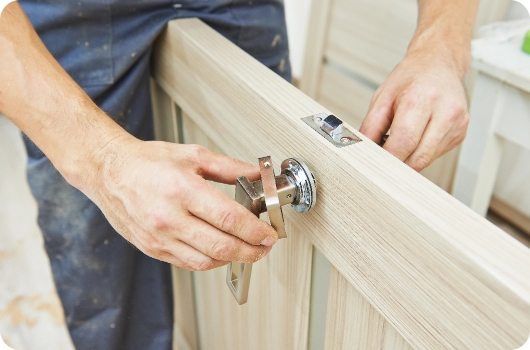 OUR DOOR INSTALLATION SERVICES IN BUFFALO, NEW YORK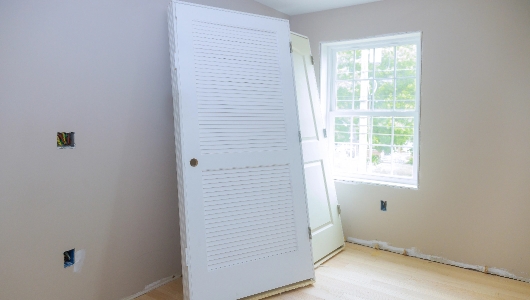 Door Installation
Elevate your home's gateway with RenoTitan's Door Installation services. Envision and create a welcoming environment. Our experts handle every aspect, from selecting the perfect door to ensuring a flawless installation.
Whether you're looking for stylish entry, durable interior doors, or functional patio doors, we deliver top-quality installations.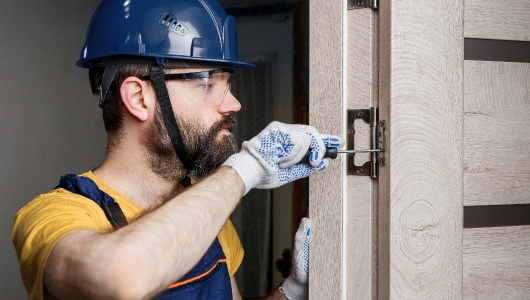 Expert Installers for Optimal Results
Comprehensive door installation services which include expert handling of entry doors, interior doors, and patio doors — we don't miss deadlines. We don't disappoint.
Our team makes sure every aspect of the project is taken care of — proper fit, security, and functionality.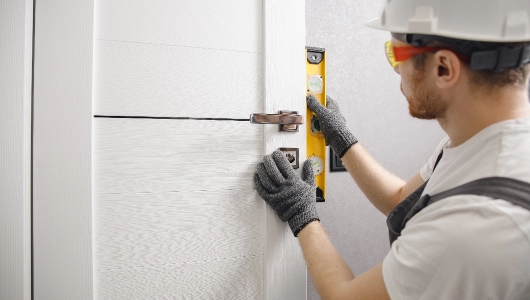 Seamless Integration With Your Home
Experience the joys of a truly flawless door installation – one crafted by RenoTitan's experienced contractors.
Precision in fitting and attention to detail for both new installations and replacements — setting the bar high as Buffalo's premier door installation company.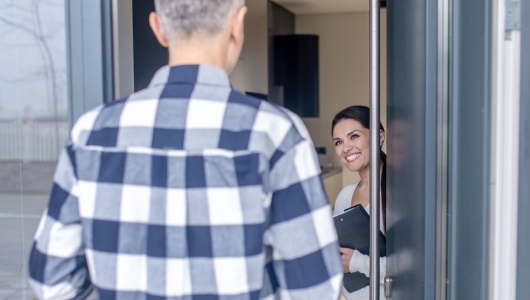 Comprehensive Home Transformation
Upgrade your living space with our professional services — we are a one-stop-shop renovation company. We offer door installations as well as a range of other transformational projects, including window replacements, flooring upgrades, and more.
Our expertise ensures every aspect of your home reflects your style and needs.
AREAS OF SERVICE
Amherst, Hamburg, Williamsville, Clarence Buffalo, Lancaster, West Seneca, Tonawanda, East Aurora, Depew, Orchard Park
FAQ
How long does it take a professional to install a front door?

The real duration of front door installation can vary based on factors like the type of door and any additional work needed. It can be as fast as a couple of hours if you need only door installation. For personalized timelines, we recommend you to get in touch with us – we offer many channels including our contact page or simply call us.
Do I need planning permission to install a door?

Planning permission requirements can vary by location and project specifics. We highly recommend checking with local authorities or consulting with our experts to ensure compliance.
What is the average labor cost to install a door?

The labor cost for door installation depends on factors such as door type, complexity, and location — how unique or how complex the project is. Reach out to us for a personalized quote that includes labor and materials.
Get a free estimate from our door installation experts and start your renovation today. We guarantee the best quality.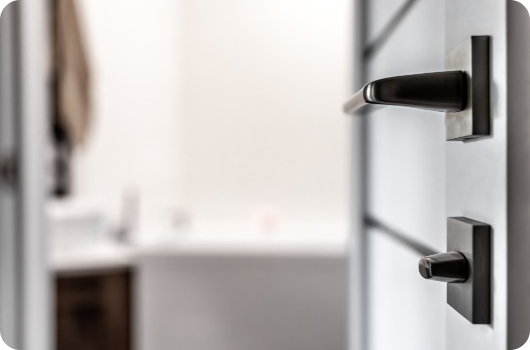 Request Door Installation